You, Only Better by Kim Kennedy Austin
BAF Gallery, November 2nd to December 16th
By Adi Berardini
As a teenager, I remember reading glossy magazines with tips on how to live a better life, often too riddled with tips like "10 ways to get perfect skin" or "How to lose ten pounds in ten days." Kim Kennedy Austin's series of work done throughout her residency at the Burrard Arts Foundation (BAF), uses humour to critique the narrative of self-improvement ubiquitously found in magazines. By using a collage method and referencing Western Homes and Living magazines and an early fitness manual, Austin analyzes the consumerist construction of the ideal livelihood and body. Austin points out the tropes of self-improvement by critiquing its absurdity. You, Only Better consists of drawings constructed on paper using a velvety blue flocking, like the material found at the bottom of jewelry boxes, framed in wooden frames creating a black and white cartoon feel reminiscent of Saturday morning comics.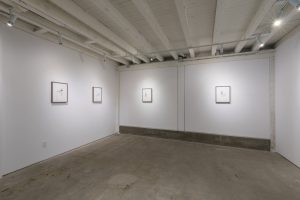 Kim Kennedy Austin – You, Only Better at BAF. Photo by Dennis Ha
Austin critiques how consumers buy into the ideals of a perfect lifestyle and self-improvement methods that are often heteronormative. The setting is the post-WWII economic boom where the conditions seemed carefree, including a family relaxing on the beach and a dapper large-nosed gentleman indulging in a glass of wine. The time period of the 1960s seemed romantic and hopeful. However, Austin questions the idea of striving for perfection through capitalism when perfection is an impossible construction.