Nicolas Sassoon and Rick Silva, SIGNALS 2, HD video, 2 minutes, 2014

Sculptural and architectural projects are conceived through digital rendering and manifested via screen-based graphics. When these works are brought back to a physical context, they reference their screen-based origins. They manifest as prints, sculptures and projections inquiring on their own reality and materiality in space.
Part of Sassoon's research focuses on all-over animations produced using a moiré patterning technique – consisting in the overlap of two images to generate the illusion of third image. The resulting animations lean towards abstraction although they reference natural forces. These works are displayed online as animated all-overs and in space as projections scaled to the architecture in context.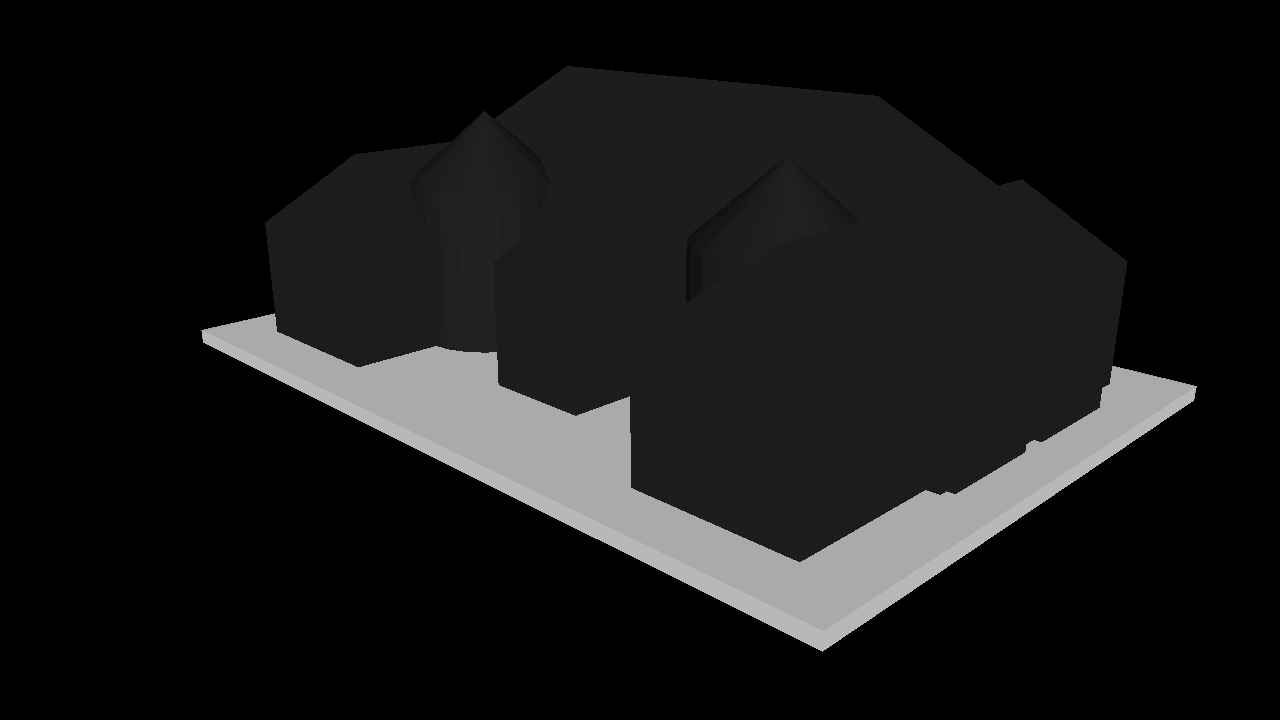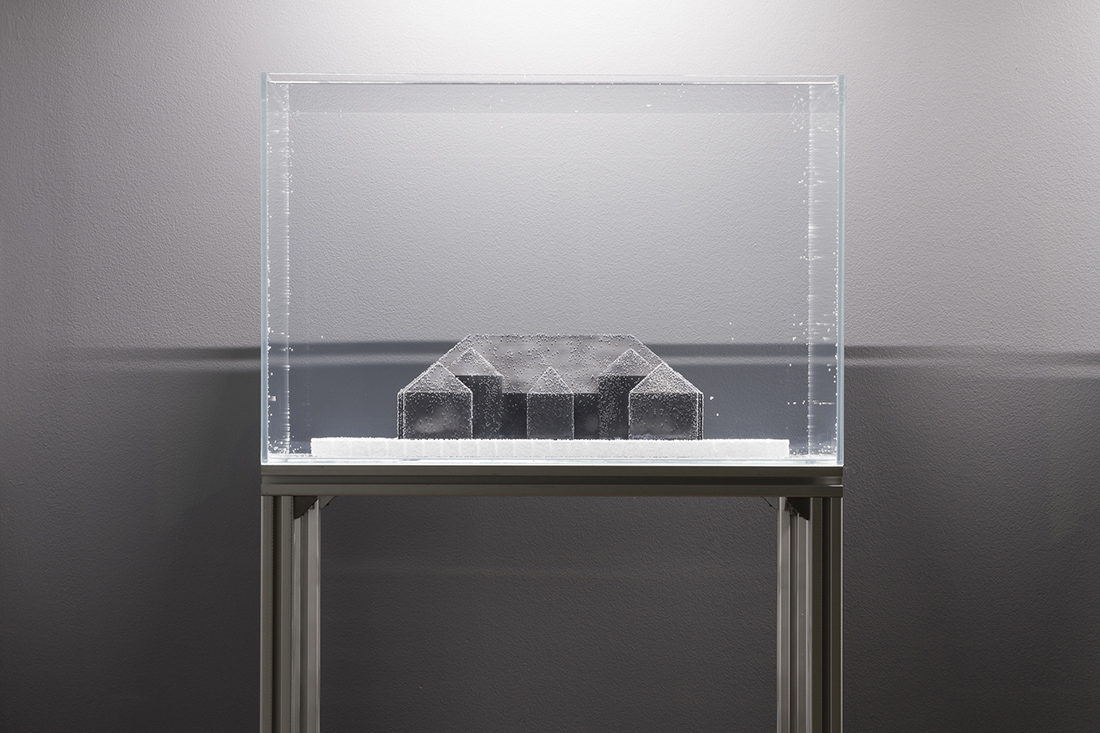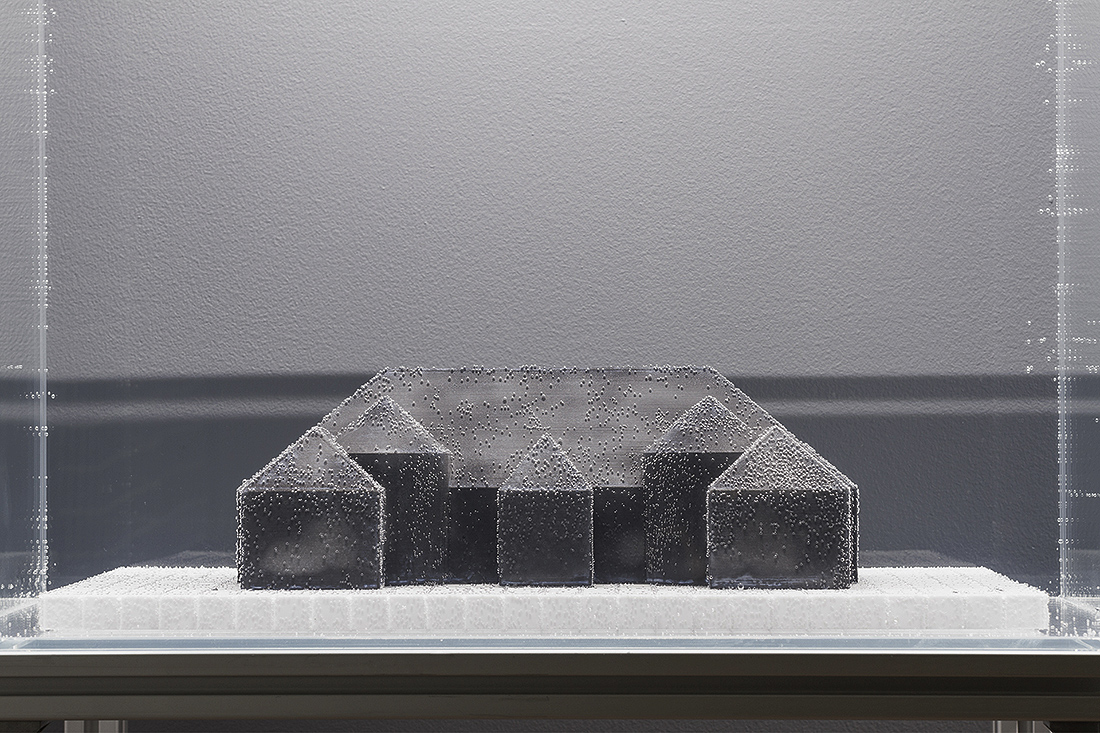 Nicolas Sassoon
MANSIONS
3D models, concrete castings, aquariums, LEDs, aluminum – variable dimensions 2013
Exhibition DREAM HOMES at Wil Aballe Art Projects, Vancouver, BC, 2015
Photos courtesy of Dennis Ha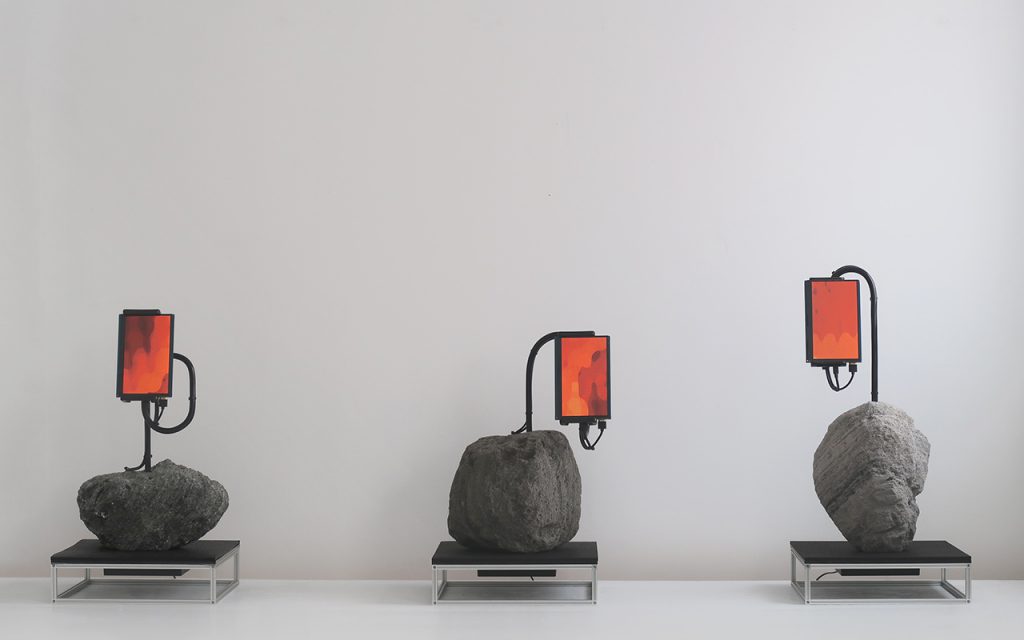 Nicolas Sassoon
THE PROPHETS, 2019
Digital animation, Lava rock, LED panel, media player, controller, aluminum profile, ABS, rubber, dimensions variables.
The Prophets is an on-going series of sculptures contemplating on the relationships between technology, natural forces and entropy. The sculptures are primarily composed of lava rocks and LCD panels extending from the rocks, giving the assemblages a subtle anthropomorphic aspect. These main components evoke volcanic activity through different states and temporalities, suggesting a cycle of formation and destruction; the LCD panels display pulsating animations reminiscent of flowing lava while the rocks exhibits highly vesicular volcanic glass textures. The works congregate various references to both the natural and the technological: the bases and scales of each sculpture are evocative of traditional miniature landscapes (Hòn Non Bộ, Bonsai, Suisekis) while the black PVC gooseneck holders suggest the outlines of industrial piping. Through contrasting materials, The Prophets evoke a balancing act and struggle between natural ideals, technological progress and entropy.
INQUIRE